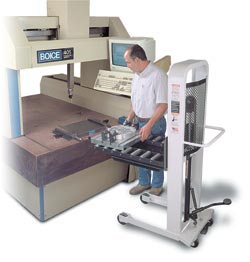 DIMENSIONS

Versatile Transfer Cart
shown loading quality control

A manual cart for changing, transporting, and holding pallets. The 2430C Pallet Cart can accommodate pallets up to 26" x 30" with a total weight of 1000 pounds.

EXTREMELY VERSATILE
The cart is designed as an all purpose pallet and tool transport cart, replacing awkward traveling cranes and engine hoists. Rollers on cart prevent gouging of the bottom pallet or fixture and makes heavy loads move with ease.

The newly designed cart has a large lifting range to move pallets or tooling to a storage shelf as low as 8.5" to as high as 61.5" above the floor. THe cart has large wheels to move it over rough flooring.


Features Include:
Transfer pallets without complicated lifting gear


Feeds pallets to all types of changers; shuttle or rotary


A must for tool room and work shop


Can be used as a simple pallet changer in an emergency


Perfect for all around shop use; vices, dies, fixtures


Safety fence prevents pallet shifting during movement


Hydraulic height adjustment