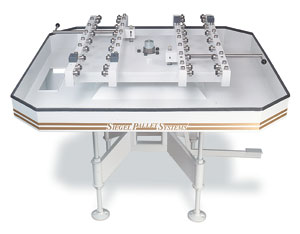 DIMENSIONS

The Siegel Shuttle Tooling System

The Siegel Rotary Pallet System is a simple manual pallet changer that holds two pallets on either side of an indexing table. Pallets are moved to and from the machine receiver by turning the rotary table 180 degrees and rolling the pallet on and off.
Easy Manual Operation
You can easily rotate the carousel and roll the pallet onto the receiver manually. Pallets loaded with heavy work pieces are rotated smoothly and effortlessly on ball bearing races and transferred to the receiver on rollaway bearings.
Operator Friendly
The Siegel Rotary system is preferred by many machine operators because it is compactly located in front of the machining center, with room on three sides to load and unload the off-line pallets. The transfer bridge from the changer to machine table swings open to provide easy access to the spindle and work piece.
Engineered For Safety
A simple mechanical safety interlock system prevents pallet movement during carousel turning and prior to roll-on/roll-off. A second interlock insures the machine tool cannot be operated until the pallet is clamped to the receiver.
Versatility
The pallet receiver is only 3.5" high, an important plus for smaller VMC's where spindle height is limited.
Simple Installation
Four heavy-duty steel posts replace a needlessly elaborate columnar system and floor plate. Vertical Adjustment is made with worm screws on each post. Simple floor anchor bolts are all that's needed for mounting.

No air or electrical connections are required for the rotary machine, although an air blast hose is useful for clearing chips. The park station has a huge full-width chute and chip bucket that makes clean-up fast and easy.
Models for Flexibility
Model R-1625 has a standard 16"W x 25"L receiver and pallet. Oversized pallets up to 20" x 30" can be accommodated. Model R-2025 has a standard 20" x 25" receiver and pallet. It can handle oversize pallets up to 24" x 30". The R-2035 has pallet and receiver dimensions of 20" x 35". Pallets up to 24" x 42" can be accommodated. Custom machines of any size are also available.
Rugged and Inexpensive
The Siegel Rotary Pallet Changer is very simply designed and built, far less complicated that competitive systems. It is built for rugged, long-term service, yet is a great deal less expensive.
Features Include:
Manual shuttle action


20 second cycle time


Doubles machining center output


Registration accuracy .0001"


Manual or air-operated receivers


Safety Interlocks


Models for receivers from 10" x 15" to 16" x 25"


Handles heavy pallet loads


Low cost, proven design


Low Profile receivers